Bring Your Friends! If you have a group of people wanting to explore the Bay of Islands for more than a day, Ecocruz is perfect for you.
The Manawanui is one of the largest overnight charter yachts in the Bay of Islands and the only ocean-going vessel capable of accommodating up to 16 passengers overnight. We attract interest from groups as varied as bird watchers, divers, youth holidays, sailing schools, wedding parties, coastal kayakers and others.
Our cruises are educational and we are experienced at accommodating passengers of all ages. Our capable crew are trained instructors and guides and are conscious of our passengers' safety and their individual needs.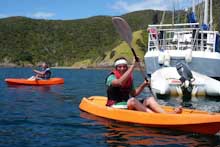 We can put together a programme to address your personal interest and desired level of educational aspect. We have been running overnight cruises in Northland for over 12 years and we have expert knowledge of the area's unique flora, fauna and history.
The Manawanui is available for group charters throughout the year. We operate in the far north east coast of New Zealand more or less between the Coromandel Peninsula and North Cape.
Rates vary, depending mainly on dates and numbers. You should expect to pay somewhere around NZ$3000.00 per 24 hour day for the boat. Contact us for more information.
Please note that the following cancellation policy/ terms and conditions apply for whole boat charters -- Group Booking Conditions and Group Cancellation Policy: 25% deposit payable upon booking. Balance payable 6 months prior to departure. Refunds: up to 6 months prior 75% refund / up to 3 months prior 50% refund / up to 1 month prior 25% refund. No refunds within a month of departure. In the unlikely event of a cancellation on our part, we will refund the full amount charged. We can't be held accountable for any other costs arising from our cancellation.