We often get asked where our passengers can leave their car whilst on a cruise with us. We have teamed up with the Averill Court Motel who will kindly let you park your car at the motel at no extra charge for bookings made directly with the motel. You can stay the night before and/or after.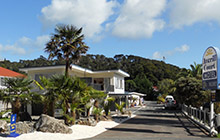 The Averill Court Motel has great reviews and is located close to the beach, less than 1km away from the wharf from where we depart. It's often full during the summer, so please book early.
To book the motel, please email Winnie directly: This email address is being protected from spambots. You need JavaScript enabled to view it.
Just tell her that you are coming out with us.
PLEASE NOTE: You must book directly with the motel for the free car parking to apply. Bookings made via sites such as Hotels.com or Booking.com or a travel agent are not direct bookings as they incur a booking fee for the motel. The Averill Court will offer you a better rate than you will find online. Just talk to Winnie. She's very nice.