Ecocruz is an all-inclusive three-day sailing exploration of the Bay of Islands Maritime Park. No other trip will let you exprience this unique area in quite the same way.

The idea behind Ecocruz is to let you enjoy the Bay of Islands the way the locals do - on a boat with a small group of like-minded people - take in the natural beauty at a leisurely pace, get active if you feel like it but most of all spend a few carefree days in a stunning setting doing things you enjoy. Our journey will take you onto the ocean and to uninhabited islands, remote beaches and rugged, coastal headlands where you can explore our destinations by kayaking, snorkeling and walking. There is no standard route or itinerary as these are weather dependent. We always aim to take in the top attractions as well as hidden gems off the beaten track.
The trip will let you experience the true diversity of the Bay of Islands. Some highlights include:
Cape Brett with the Hole in the Rock
The Twin Lagoons at Roberton Islands
Urupukapuka Island
At night we anchor in secluded bays away from the main tourist routes.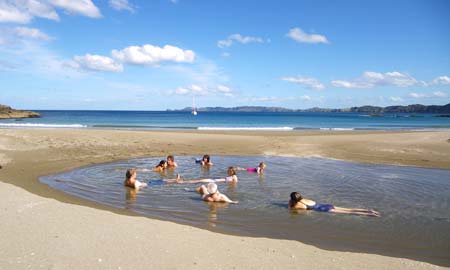 The cruise is divided equally between sailing and discovery – a few hours passage making is followed by an exploration of our destination and a good meal. The combination of sailing, kayaking, snorkeling, walking and wildlife, in the comfort of a small group, create a memorable Bay of Islands experience.
All activities are guided, but you always have the option to explore by yourself or to just sit back and relax. We enjoy what we do and we're happy to share our passion and knowledge of the Bay of Islands and its wildlife, history and culture with you.
Trips depart Tuesday and Friday, November-May
Passenger numbers are limited to 10 per trip to ensure a personal atmosphere
Accommodation is in private double cabins or shared 4-berth bunk rooms
Prices start at an all-inclusive NZ$ 725.00 per person